Construction completion of the Enoch Callaway Cancer Center marks a major milestone for a decade-long dream at Wellstar West Georgia Medical Center. This 1970's oncology treatment facility had become too small and outdated for the superior cancer care it provided. Through a financial market dip, hospital ownership change, and a global pandemic the design and construction of this facility persisted and stands at the close of 2020 as a testament to the commitment of this community and design team!
This two-story facility, situated on a naturally sloping site, now allows for all the hospital's cancer services to be under one roof. The upper level supports clinical exam spaces, an expansive 19-bay infusion center, a pharmacy, and administrative space.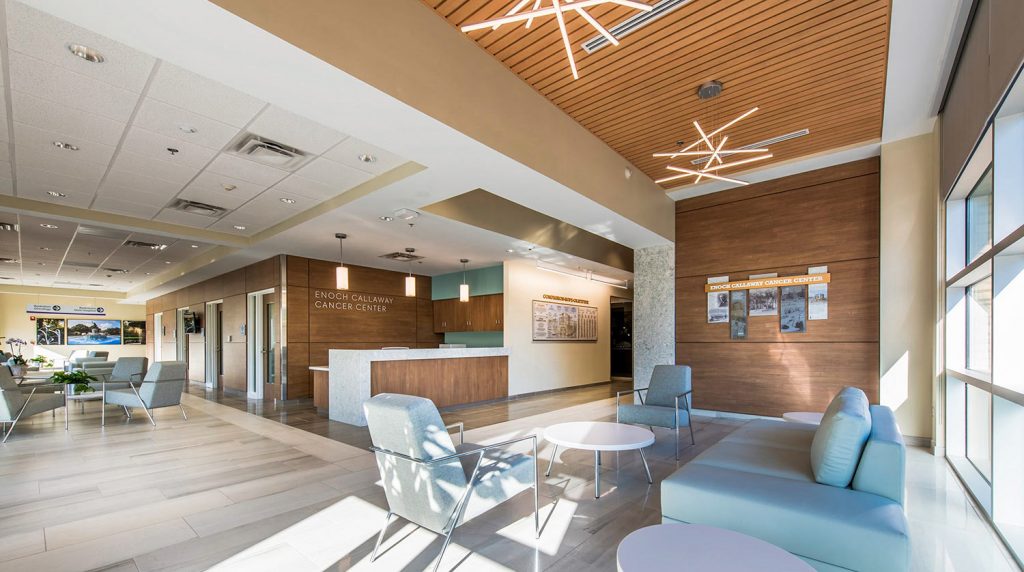 The ground floor remained operational through construction and now houses an additional linear accelerator and provides support spaces that interface with the West Georgia and East Alabama community. A resource cancer learning center, chapel, public meeting auditorium, and wigs boutique for cancer patients allow this facility to support community needs.
Hospital leadership tasked its design team to create an environment for healing that connects with the local community and nature. Biophilic design was an integral part of the design concept. Expansive views to tree lines, natural light, and a memorial garden were purposefully designed. Elements of nature were brought inside through artwork selections and material choices. The finish palette is calming, crisp, clean, and natural, invoking a sense of hope and healing for the facility's patients and their companions.
From diagnosis to recovery, this $408/SF renovation, emphasizes the importance of world-class cancer care close to home. The Enoch Calloway Cancer Center demonstrates to all its patients, families, and staff the invaluable benefits that thoughtful and intentional Interior Design brings to a life-saving healthcare facility.