Project Details
Project Name: Harbert Center – Birmingham, AL
Installer: Carpet Specialties – Birmingham, AL
Architect/Designer: Design Innovations – Birmingham, AL
Size of Project: 1850 SY of carpet
Name of Product: Custom Outlier Nexstep Cushion carpet tile with a small amount of Kings Road for a custom logo
Market Segment: Corporate/Social Event Center
Project Location: Birmingham, AL
Project Description
The Harbert Center is home to more than twenty of Birmingham's top civic clubs, associations, and nonprofit organizations. On nights and weekends, the center serves as a unique venue for weddings, receptions, and special events. The building has multiple rooms, in various sizes, to accommodate corporate or social event needs.
Fifteen years ago, Bentley's attached cushion broadloom carpet was installed throughout Harbert Center, and the performance of the product was excellent. The center needed to be refreshed and Bentley was utilized once more for the center. This time, a modular carpet product format was selected.
Before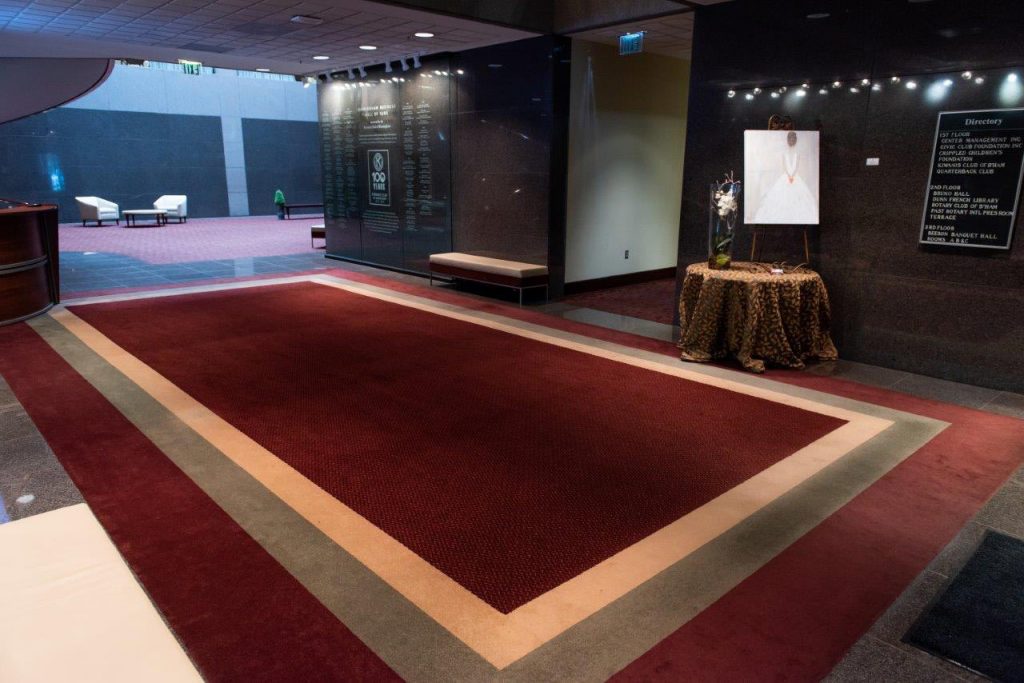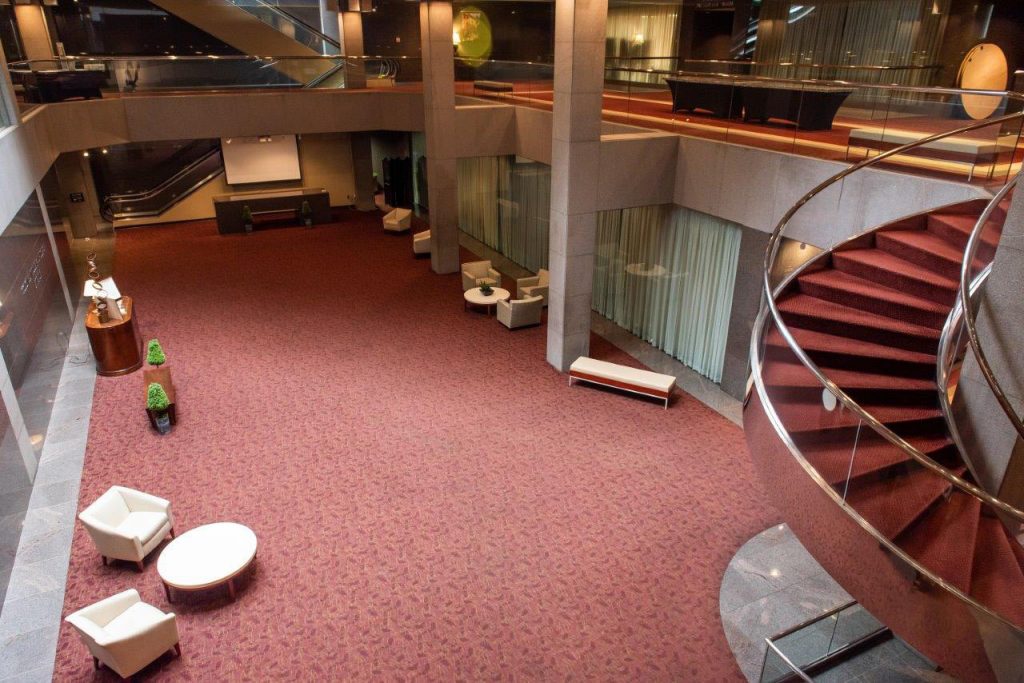 Challenge
The challenge was to provide a carpet product solution that fit Harbert Center's existing aesthetic since no other finishes were being altered. Much of the building is comprised of granite tile; thus, coordinating carpet with existing finishes was crucial. The center also required a solution dyed carpet product to provide ultimate colorfastness. Attached cushion carpet was another requirement for comfort underfoot, durability, and extended life span. Lastly, there was a very specific time frame to complete material selection, material approval, product manufacturing and installation.
Solution
To meet the client's needs and challenges, a strategic plan was followed that ultimately reduced the design process. In the beginning, a yarn system was selected. The design firm working with the Harbert Center project opted to review products with Antron Type 6,6 Solution Dyed nylon. The designers knew that a custom color was necessary to coordinate with existing finishes, so this specific yarn system was the appropriate choice.
From this point, designers were able to select a variety of styles based on pattern and scale, Bentley produced paper simulations for each selection. These simulated paper samples were reviewed with the designer and owner prior to moving to the phase of producing custom carpet samples for review. Bentley also provided digital room scene images, which helped the client visualize the customized carpet in their space.
After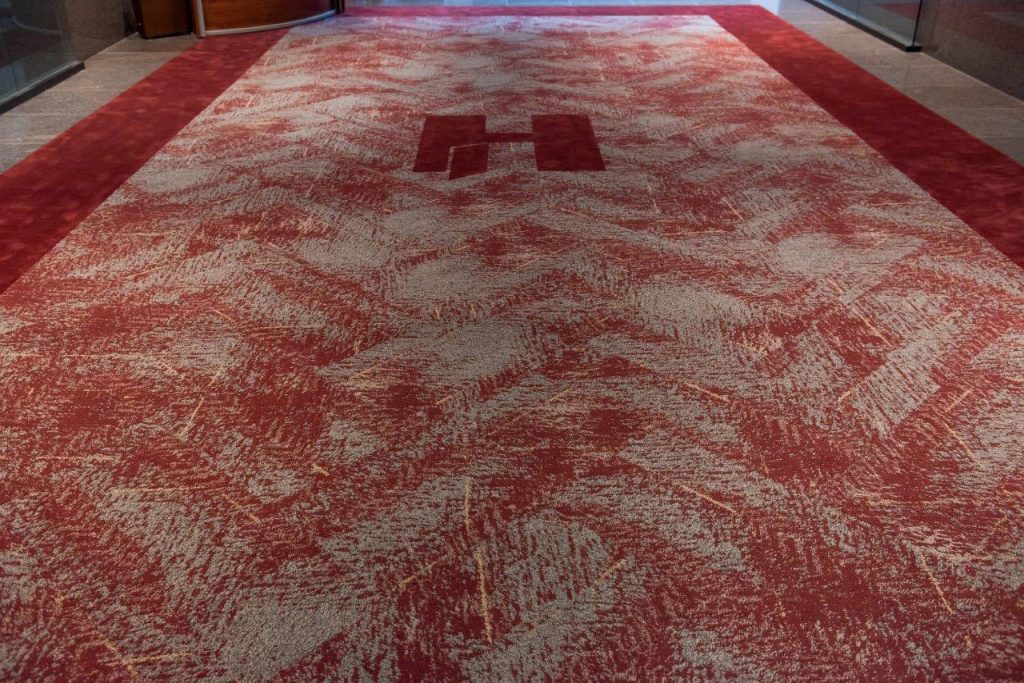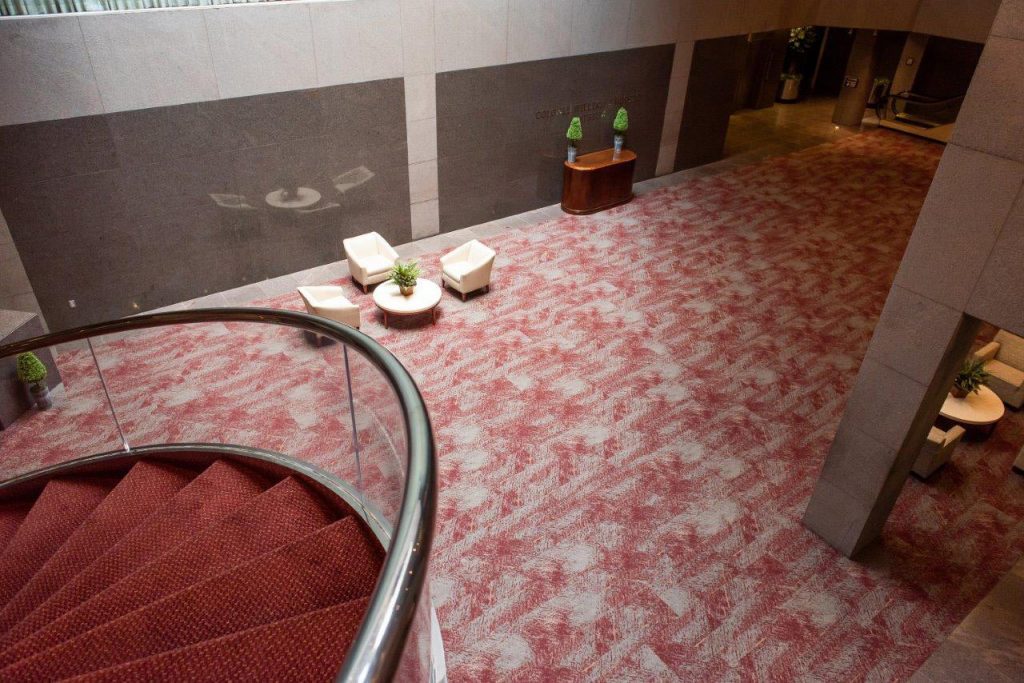 "From the beginning of the design process, Bentley assisted our team to find a custom solution that blended our client's current needs with their existing environment. The results not only satisfied the tight time constraints, but far exceeded our expectations." – Shannon Bayles with Design Innovations